1.000+ Rural Bridges in Sri Lanka
In 2015, Janson Bridging is awarded the contract by the Ministry of Economic Development of Sri Lanka for the turn key construction of 463 bridges. Due to the lack of a good infrastructure, the local population is limited in its possibilities.
It does not matter whether it concerns access to markets for trade, medical facilities or education. For the international branch of Janson Bridging, it is therefore not just about building bridges. It is also about creating prosperity. These bridges make rural areas accessible and can improve the standard of living of the local population. In this way, the bridges thus make a significant contribution to the United Nations Sustainable Development Goals.

The bridges that are delivered to Sri Lanka are made of steel and concrete and are strong enough to withstand natural disasters, such as floods. The bridges that are supplied for this project are smaller bridges ranging from 6 to 30 meters, for the rural areas. From the moment that a start is made, a bridge can be placed within 105 days. To this end, local contractors are engaged who carry out the excavation work and pour the concrete foundation. The steel frame is then placed, corrugated steel sheets are mounted on it, then braiding and finally a concrete driving deck is poured before the bridge is finished. Due to the fact that the bridges are all located in remote areas, the project is a major logistical challenge.
Einzelheiten zum Projekt
Länge der Brücke
6 - 30 meter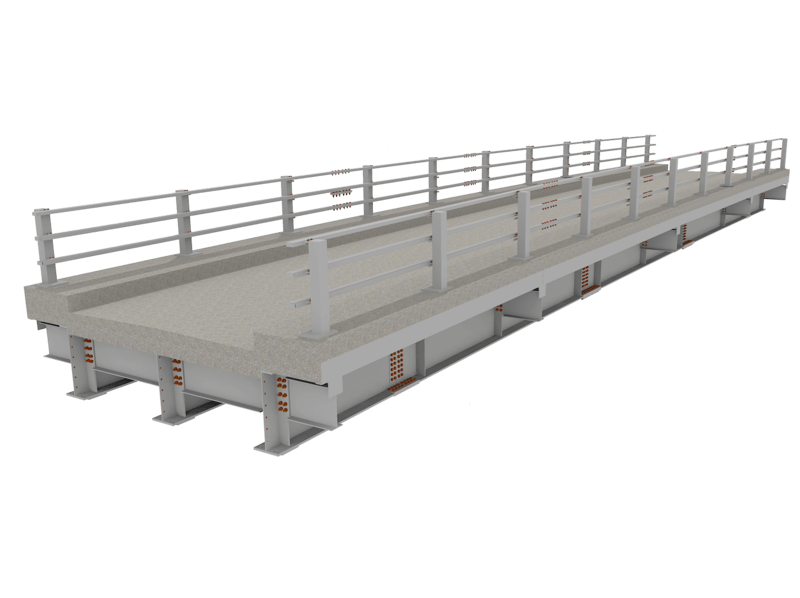 The complexity of the logistics organization is enormous. Janson Bridging was at times working on more than 110 sites simultaneously. But thanks to good cooperation with local partners and subcontractors, the workflow was very efficient. In Sri Lanka we have a central depot where the containers with all the bridge parts are delivered. From here the components of the bridges are distributed to the different locations. We use special apps on mobile phones so that we can track the status of a specific site in real time when linked to a GPS location. In addition, we do part of the inspections with drones to be aware of the local activities much faster. Because if you want to go to different locations in these rural areas to inspect the status, it will take a lot of time because of the poor infrastructure.

Janson Bridging uses the IFC performance standards and has various ISO certifications. The construction meets international standards and they are very capable of limiting any negative effects. Based on this, the environmental and social risk is therefore acceptable.